The challenge
Our clients had been living in their TMR home for quite a long time. The house—a beehive of activity and guests thanks to their young-adult kids—no longer met their needs. They wanted to stay put, so they decided to renovate the ground floor in order to open up the space.
The ask
We started by imagining a bright, spacious area where people wouldn't be constantly bumping into one another. Our clients wanted a big, white kitchen where the family could cook and eat together. Different solutions already started brewing in our minds to address a few structural issues and to get approval from the city regarding the windows.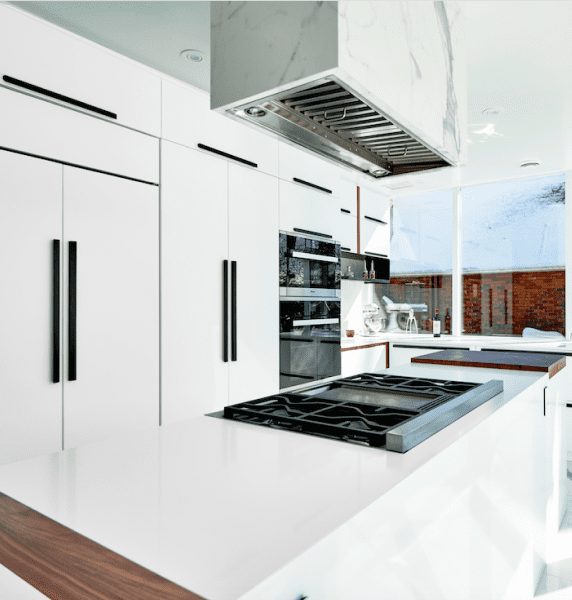 In order to build a space suited to our clients' tastes, our concept included some fairly major changes:
Moving the location of the kitchen to open up the space and make it feel bigger

Adding a strategically positioned wall of windows to allow for more natural light

Opening up the ground floor by removing a load-bearing wall and installing a steel beam to support the second storey  

Replacing the main staircase with a floating stairway made of steel with glass railing and a hidden stringer
The result
Before
After
By adding as many windows as possible and opening up the ground floor, we gained so much natural light that it was like bringing the outdoors in. 
The all-white kitchen acts as a canvas for the elegant materials used throughout the area. Wood, marble, steel and glass are harmoniously blended to enrich the space. And we granted our clients' wish of having a massive island where the whole family can cook together.
Everything from the kitchen cabinets to the stairs and marble wall was custom-made by our team. No matter where your glance falls, every well-considered accent is designed to please. 
The after-sales service
We're always there for our clients. We continue to advise them on minor improvements still today—and we're even helping on a building project for one of their kids.
We love
The custom table, which is large enough to seat their kids and their guests.
The porcelain wall that's made to look like marble, which visually connects the dining area to the kitchen.
The dramatic 19-foot made-to-measure island with walnut inlays to hide the joints—the family will always have plenty of room to cook.