Project management at ESPÉ
Residential renovation projects come with surprises and unforeseen circumstances. Whether it's a long wait for a permit from the borough or the discovery of a major structural problem following a demolition, ESPÉ adapts to your needs.
We're here to help you find solutions as a team, from the initial dream to the final touch. We'll offer you informed choices in terms of technical solutions, including their advantages and disadvantages in relation to the three criterias of our project management. You'll always be in control of your project and your decisions, but you'll never be alone. There's a sense of accomplishment at ESPÉ when we're able to provide you with the tools and skills you need to make your experience exceptional.
A qualified team
The professionals we hire are trained in a variety of technical aspects, customer service and how to be of service to you, at all times. Knowing that each customer is unique in his or her approach and personality, we take a customized approach to managing each project. Offering quality or turnkey service means developing a relationship of trust with you and our business partners.
If one of our team members moves on to new professional horizons, don't worry, your project is still important to ESPÉ! All team members are versatile and can support you anytime.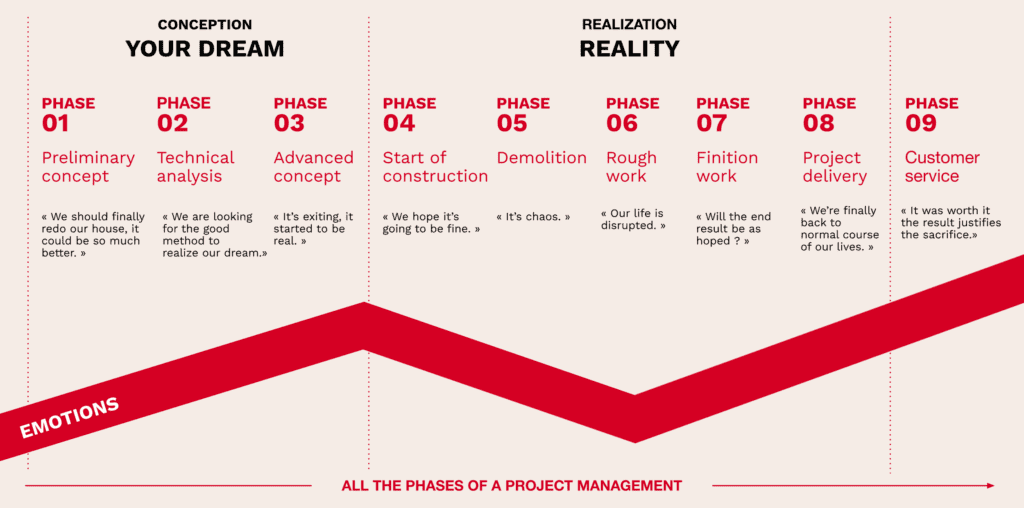 A worksite can only be started on the basis of the estimate analyzed in project design. This estimate contains activities that will have been negotiated with workers and suppliers through a bidding process. Drawing on our expertise and experience, ESPÉ thinks of all the details: measurements, storage, delivery, handling, complexity of task execution, etc. We can even offer you a moving or home maintenance service if it gives you peace of mind!
We tailor our pricing structure to suit your financial needs: flat-rate or price-plus.
Be careful! It's a choice you'll have to make at the very beginning of your relationship with us. We offer flexible payment terms that you'll be happy with, such as prorated or time-dependent.
In all cases, whether you're anxious or detached about the financial aspect of your project, you can manage your budget on a regular basis: weekly, bi-monthly or even monthly. The choice is yours! You'll have real-time access to your account statement via our online project management platform, as well as to your evolving budgets for finishing materials and invoices.
An all-inclusive schedule
We offer detailed schedules tailored to the scope of your project, whether in design or on site. The completion of your project takes into account the type of project: kitchen, bathroom, extension, plex conversion… Deadlines for tasks, supplies and expertise are built into your schedule.
Our interactive project management platform lets you see the crucial stages of your project, but also the critical path leading to repossession of your space. It enables you to communicate with the ESPÉ team via tasks, reports, photos, videos, documents, not to mention standard means of communication (telephone, e-mail, videoconferencing, etc.).
Accompanied by rigorous access management, specifications, warranties, plans or any other documents can be made available to anyone who requires them. Information is centralized so that all parties involved in your project are informed in real time of any updates. Increasing efficiency is at the heart of our operations.
In addition to respecting budgets and deadlines, quality translates into four (4) dimensions. We take this dimension of our project management service seriously, and it's at the heart of ESPÉ's mission!
1. Customer satisfaction
2. Quality of materials and workmanship
3. Compliance with construction standards
4. Sustainability and energy efficiency
First and foremost, we're always on the lookout for your feedback. We want to grow, evolve and even stay ahead of construction trends. We need your help to get there! Robust continuous improvement processes are in place internally to ensure we incorporate your constructive feedback, and we celebrate your recognition.
Our quality standards
ESPÉ is constantly striving to raise the bar on the quality of the services we offer. Creativity allows us to be cunning in optimizing your space while achieving the desired aesthetic level. Design and architecture are at your fingertips, whether for custom elements, refined details or simply to satisfy your functional needs.
Our in-house labor team guarantees that your project will be maintained and organized in accordance with current standards and regulations, both in terms of health and safety and the attestations or certifications required of our partners. We ensure that the quality of our renovation work exceeds the minimum requirements of the Construction Code and Building Act. Your air quality and comfort, both in summer and winter, are important to us!
Meticulous selection of materials
A variety of materials are available on the market, and we make a point of selecting those that meet our criteria as defined in the ESPÉ Seal of Quality. We take a sustainable approach to materials, workmanship and processes. Checkpoints are set up for quality inspection purposes, enabling timely alignment of the necessary subsequent steps.
We're curious and on the lookout for new trends and emerging technologies. We hope to succeed in reducing our ecological footprint and promoting the circular economy. We're always interested in participating in pilot projects, such as materials sorting, and we're ahead of the curve in integrating digital solutions to support our service offering. This thirst for learning will inevitably be reflected in your experience with ESPÉ, you'll see!
In conclusion, we promise you a new renovation experience!
1. ESPÉ won't let you down, and we'll even follow up with you a few months after the delivery of your project to confirm that everything is going well in your transformed space!
2. ESPÉ promises you constant support, with a central point of contact for all the information you need to make your life easier!
3. ESPÉ promises superior project management!
4. ESPÉ guarantees a return on your renovation investment!