The challenge
Our clients had owned their Outremont home for many years. But with their kids having recently left the nest, some rooms no longer served a purpose or were too isolated from the rest of the home. Our clients wanted to transform their space while preserving its original character.
The ask
With the kids gone, the couple found they rarely used their dining room area, which provided a golden opportunity to expand the kitchen and create a cozy reading nook. The biggest challenge was modernizing the space without sacrificing the home's charm, and we wanted our concept to integrate the original woodwork.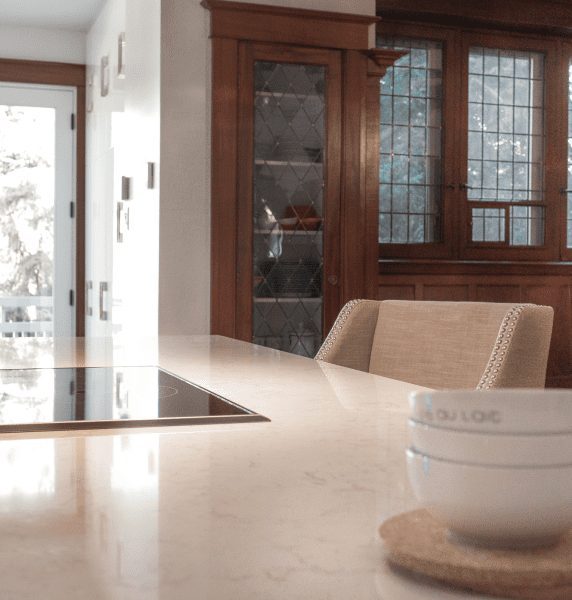 Our team determined the best course of action to tackle this challenge, including:
Opening up the dining room by replacing the load-bearing wall with a beam and steel columns

Keeping as many original elements as possible, including the woodwork, beams and flooring to preserve the charm of the home

Enlarging the windows and improving the insulation to create a bright and cheerful space

Updating the kitchen and making it more functional

Redoing the support beams to fix an unfinished extension
The result
Before
After
The modern kitchen, awash in natural light, opens on to the dining area. Not only does this layout make entertaining easier, but it also allows the homeowners to fully enjoy their dining room every day.
Thanks to our restoration technique, the original woodwork is even lovelier than before. The past and present live in perfect harmony with the pairing of materials such as slate flooring and ceramic mosaic tile.
The solarium brightens up the rest of the room and provides a reading nook with a great view outside. The homeowners can relax in the space for hours and enjoy a good book.
The after-sales service
We still have plenty of ideas to help these homeowners improve their space—which works out nicely because they need our help for several other projects. That's what we call happy customers!
We love
The elegant crystal chandelier in the dining room.
The office space just off the kitchen, perfect for leafing through cookbooks.
The mix of period details and a modernized kitchen.